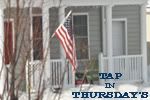 I found this on another blog and thought it sounded cool
This week's theme is Quarters.
1. Name an instillation you have been stationed.
Fort Riley, KS
2. Did/do you live on or off post?
First we leaved in a trailer home 20 minutes away while waitting for on post housing. Then we lived On in a 2 bedroom apartment in a 4 plex which I loved. Then housing decided to tear those down and we got moved to a 3 bedroom Tri-Level
3. What would you recommend for newcomers to do about housing?
Get on the list as soon as possible if you want to live on post. If not there are a lot of things available in Junction City or Manhattan if you want to go further.
4. Where is an inexpensive place you can stay off post while waiting for on post living?
The mobile home parks
5. How is the housing office? Do you have any recommendations or specific people to speak with?
Okay. If you get into Peterson Heights definitely talk to Angela.
6. How is the wait list?
Pretty long, but they are building many new homes constantly so it might be shorter.