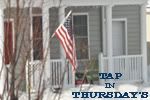 The topic this week is "Restaurants, DFAC, and Take Out".
For the Fort Riley area :)
1. What are your favorite restaurants near post?
Coach's Bar and Grill, IHOP and Family Buffet(chinese) in Junction City. Stacey's in Grandview Plaza(BEST BREAKFAST) In Manhattan we like Olive Garden, HuHot and Old Chicago.
2. What restaurants are family friendly?
All of them in Junction City(except Tyme Out Lounge) and most in Manhattan. Valentinos Italian Buffet in Manhattan has a kids eat free night.
3. Where would you go to watch "The Game"?
Definitely Coach's.
4. What take-out restaurants would you recommend to your best friend?
Freddy's and Quiznos. For pizza, Dominos. Chinese -- Jin Jin Garden
5. If you've eaten at the DFAC, how would you rate it?
We had a surf and turf dinner and I would say 7. But for soldiers I think I would say 9 because they have a great variety.
6. If there aren't any restaurants worth eating at, which ones are they? Why?
Hmmmm... not too impressed with J's diner in Junction City. The food is okay, but I can find the same stuff at other places for better or less.
Church's Chicken always has crappy service