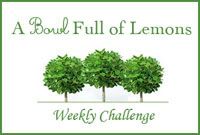 This week's challenge is to organize our schedules.
Now, I have tried making schedules for years, but I never stick to them. Probably because I make them so rigid. So I decided to try a different approach. I started with a schedule for this week's Spring Break
I used Spring colors to color code it :) Basically I made a list of things I wanted to accomplish and things I wanted to do everyday. For the one and done stuff I changed their color to black once they were done.
Then I made one for the rest of the school year. Instead of blocking out certain times for stuff I broke it up into what I need to do before work, while I have Miss K, and then the rest of the evening.
I listed some basic cleaning chores that can be done daily or every other day or bi-weekly, etc.
My goal is to complete everything on my evening list before I go to bed
Of course some days will be different. We may go grocery shopping or out to dinner or have a church activity or something.
I also listed my laundry schedule(which is the same schedule I had growing up, LOL)
I also included what can be done on weekends
When my summer break comes I will make another schedule that works for that time.
I am linking to