I have been meaning to organize my Tupperware shelf the past couple weeks, but have been lazy. Plus I needed a contaner.
This is the before
In case you are wondering why there are a couple of things up with the fine China, well that is what happens when hubby unloads the dishwasher!! I get to go on a scavenger hunt for things.
Here is the container I "made"
I just glued a piece of cardboard to the bottom and slapped a piece of fabric inside.
Now I have a place to keep all my lids :)
Once everything was cleared out, Scout thought I had made him a little condo to nap in.
Needless to say, the cabinet then got a good dose of Basic H cleaner!!!
I have this deviled egg holder.
The inserts come out and it is a cold cut holder! Or you could probably put cookies in it
I also have this deviled egg holder
Now, I am sure you are wondering what I need with all these deviled egg holders.
Well, I'll tell you. When I started buying Tupperware I remembered we had that handy deviled egg carrier when I was a kid. I wanted one, but Tupperware did not have it anymore. For a limited time they had the inserts for the cold cut holder. I talked to my mom first and asked if she still had the old one. She wasn't sure and said she "looked" for it, but did not see it. I bet all she did was open the cabinet door under the stove(I even had to tell her where it had been kept) and peek in and didn't see it and decided it was gone. So I ordered the cold cut holder and inserts. When I was going through my mom's house after she died I ended up finding the deviled egg holder,
in the back of the cabinet
. I still wanted it, so now I have 2.
I store all the inserts in the original
And some other stuff in the cold cut holder
You can tell what is old and new by the colors. My mom bought all her stuff in the 70s (and then refused to go to any tupperware parties since she had what she wanted). Oh, and you can fit the inserts in those skinny containers in the back, too. Versatile.
The after of the China/Tupperware cabinet
Doesn't everyone keep their Tupperware and fine China in the same place??
And oh my heck I can now get my lids out easily without a bunch of stuff falling out!!
I have more pieces, but they were all in the dishwasher.
I am linking to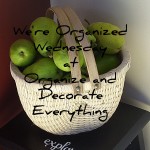 and